The Right Time For Website Content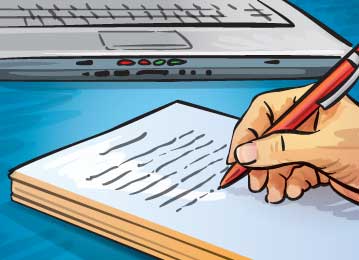 When creating a new website, when is the ideal time for the content?
Ideally, for the shortest possible development time, deliver the content to your web team at the beginning of the project, before the design is even started.
Practically though, many website projects do not have the luxury of having the content ready at the beginning of the design & development process. With more businesses crafting their website content in-house, the reality is that the right time is when the customer says it's right.
Once a website proposal is approved, it's typically two weeks before a client reviews the first design drafts, and a few weeks later the design is approved and the code is complete. If a quick website launch is desired this is an excellent time to kick your content plans into high gear.
Get Your Content Motor Running
So who's writing your website content? Occasionally I get to work with my writer to create a client's website content. It's a fun challenge to become fluent in a client's industry, find the right style and tone, and tell the story of the brand. But the fact is, more clients now supply us their own content than not. If you're the one writing your website content, and you find that it's taking longer than you'd like, then consider this:
You Could Be Halfway Done Before The Writing Is Even Started
Having even a portion of the content completed can be a relief to the person in charge of completing the website content. Review all your past marketing efforts and identify which content can be reused or re-worked. Got a sales brochure? Even if it's outdated, there is likely some wording that can be grabbed from there. Traditional or online advertising, and even scripts from radio or TV ads can all be multi-purposed for use on your new website.
What is the minimum amount of information a buyer needs to take the next step with your product or service? Focus on anticipating and providing answers to their most pressing questions first. Whatever you do, don't spend all your time perfecting your About Us page. Focus on creating content that is all about the customer and their needs.
Are You Thrilling Your Audience?
Everyone website visitor is unique. They want to get a quick impression of your business before diving deeper. Some appreciate text, especially if it's short and easy to understand. Others prefer images and video over words. Either way, one thing's for sure: website visitors have an increasingly short attention span. Your website just a few seconds to capture visitors attention and establish trust so they will consider exploring further, and taking the next step of contacting your business. Check out a few best-in-class competitor websites to see how similar businesses are handling photos and videos. If your budget allows, consider using professionals to capture your photographs and video. And consider that even images or videos with lower production qualities are better than none at all. The web is a forgiving medium so get busy with your photo editing tools to color correct and improve dark and shadowy photos.
Training The Content Creator
Even when my team is not providing the client's website content we still want to work as closely as possible with the client and their content providers, to make sure the content fits the design and supports the client's marketing goals.
For the client's writing team I suggest:
Simplify the navigation
Build internal text links
Shorten or break up long paragraphs of text
Create titles that contain keywords from the approved keyword target list
Avoid using PDFs, which are not as user-friendly as content on the page, or a modal window
For the client's photographer:
We provide page layouts showing the exact cropping needed for each main photo
Communicate the the need for ultra-horizontal cropping
Make sure unlimited image usage rights are transferred to the client
Request the highest resolution possible for best quality at any size
Ensure A Rapid Web Launch by Avoiding Perfection
Avoid creating an encyclopedia on your business at all costs, there is no need for the A-Z of your business before the visitor has even expressed interest. Visitors will warm up to your website quicker if the information is bite-sized, scannable, and lays out the features in terms they understand. Create content that respects the visitor's time and addresses their specific needs.
When finishing up your website content, keep a careful eye on perfectionists to avoid delays. The web is different than a one-time sales presentation or widely-distributed printed piece. With modern websites the content management system, or CMS, allows website managers to edit and improve the content instantly. Hopefully the ability to edit the content will pacify any perfectionists on your team.
2 Responses to " The Right Time For Website Content "